Fastest and cheapest ways to attract new customers, make existing customers loyal and make more sales. Save up on your marketing expenses! Continue reading to know more and to benefit…
A wise entrepreneur spends less to make more. You must know how to use 20 naira to make 80 naira, how to turn thousands to millions and millions to billions and on and on….
Many businesses fail due to lack of relationship with their customers. Business owners need to   follow through with their customers. Remember how important communication is with family, friends, neighbors and colleagues. Relationship gets better when you get in touch with our loved ones. Establishing an healthy relationship is one of the great secrets of successful businesses that worth more than billions of naira.
As an entrepreneur who is interested in boosting sales, you need to show interest in your customers/clients' needs to compel them to value your products more. Keep them close to you by constantly creating awareness about new products, offers and the likes. Occasional greetings is quite relevant too. This gives the customers that feeling of attachment to you which is very very important for consistent patronage. This doesn't only compel them to return for your products/services. It also compels them to discuss your business with other people. That is, referral is guaranteed when you communicate more with your customers.
Reaching out to your customers will keep you in their minds and you know what that means? They go nowhere else but your store when they need the products and services that you sell. Also its a form of persuasion where you propel customers to eventually get products/services they initially hesitate to purchase.
One of the most powerful and cheap ways to communicate with your customers and potential customers is through SMS. It is  a powerful marketing tool that will allow a business reach out to group of customers and let them know about special offers and events. Remember the messages you receive from banks, and other business entities that have their business name shown, it is called bulk SMS.
Bulk SMS messaging is a cost effective method of conveying a business' message to consumers. The world is going digital, and according to a research more than half of the entire population in Nigeria use phones and Internet. You cannot afford to miss this opportunity to grow your business. You can get businesses that offer ebulk SMS services by asking people around or searching through the internet.
However, you need to be careful not to fall into wrong hands. I will therefore recommend one of the cheapest and most reliable Ebulk SMS in Nigeria known as Ebulksms.com. You can as well earn free units to send group messages using their services. This means your expenses for marketing is already reduced that you can have money to spend on other expenses of the business. You need to be wise in making business decisions. Don't spend it all, to make more. With Ebulksms.com you will realize that.
How bulk SMS Works.
Sending SMS
Send text messages to thousands of recipients at the click of a button.
You have the advantage of sending messages with your own customized sender name (of up to 11 characters), and if you want to use a phone number you have up to 14 numeric characters.
Once you have registered your account on EBulkSMS just click on "Compose SMS" on the left menu.
You will be presented with a compose SMS page just like when you want to compose an email message.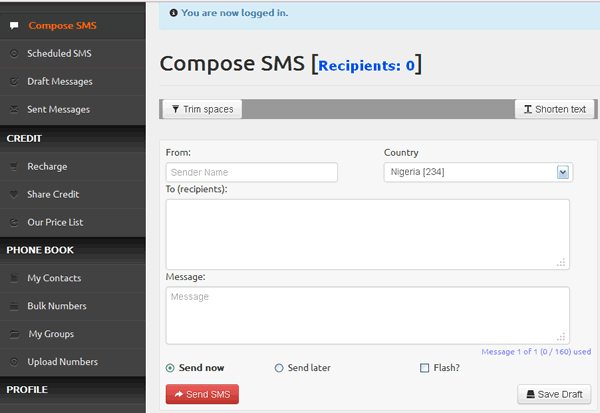 Here there is a space for you to enter the Sender name (From:) which will show on the receivers' phone.
There are also spaces for Recipients which is for you to enter the phone numbers of the people you want to send your SMS to
Finally, there is a space for you to enter your SMS Message.
Our smart SMS system will automatically extract phone numbers from any text.
Also you can recharge your SMS account using your InterSwitch Debit card from anywhere in the world.
Make this wise decision for your business now, get in touch with your customers by using bulk sms, the effective and very affordable marketing strategy.